What is Alpha1-antitrypsin?
Alpha1-antitrypsin (AAT) deficiency, or alpha-1, is the most common genetic form of COPD and one of the most prevalent, potentially fatal, hereditary conditions in the world.1,2 Alpha-1 may be a contributing cause for up to 3% of COPD cases in the United States.2,3 Screening all of your COPD patients for alpha-1 can help identify those at increased risk.2-4
quote-alpha1-antitrypsin-deficiency
More than 100,000 people in the United States are estimated to have AAT deficiency3
Mutations in the SERPINA1 gene cause low levels and reduced function of AAT5
AAT deficiency is an inherited condition that is caused by mutations in the SERPINA1 gene, which produces the AAT protein.5 The AAT protein is primarily produced in the liver and released in the blood to protect the body from enzymes like neutrophil elastase.5
When mutations occur in the SERPINA1 gene, an abnormal AAT protein is produced and gets trapped in the liver, causing low serum levels of AAT.5 Low levels of AAT make the lungs vulnerable to the destructive effects of neutrophil elastase and other enzymes that break down proteins.5 As a result, people with AAT deficiency are at high risk of developing life-threatening lung diseases including genetic COPD.5
Endogenous AAT is critical to safeguarding the lungs6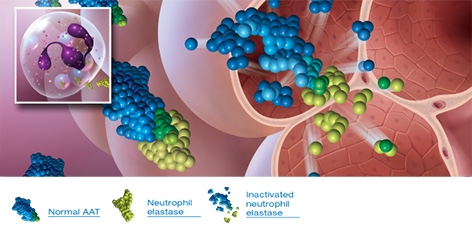 Low levels of AAT leave lung tissue vulnerable to destruction6
Mutations and their impact on AAT levels
To date, more than 150 different variants have been identified in the SERPINA1 gene.5
AlphaID screens for 14 of the most common genetic variants, including rare and null alleles.7 Of the 14 variants, S and Z are the most commonly reported deficient alleles5:
The Z allele is associated with very low serum levels of AAT (~10%-15% of normal levels)
The S allele is associated with moderately low serum levels of AAT
The M allele is the normal version of the gene and produces healthy levels of the AAT protein.5 Up to 25 million Americans are thought to have at least 1 deficient allele (S or Z) that causes alpha-1 and may pass that gene on to their children.8
Alpha-1 is a codominant genetic condition where an individual who inherits 2 copies of a mutated gene (ZZ) has a higher risk of developing lung disease than someone inheriting 1 abnormal allele (MZ).5
button Order free AlphaID™ screening kits
COPD, chronic obstructive pulmonary disease; FEV1, forced expiratory volume in 1 second.
References:
Campbell EJ, Campbell MA, Boukedes SS, Owen CA. Quantum proteolysis by neutrophils: implications for pulmonary emphysema in α1-antitrypsin deficiency. J Clin Invest. 1999;104(3):337-344.
World Health Organization. α1-antitrypsin deficiency: memorandum from a WHO meeting. Bull World Health Organ. 1997;75(5):397-415.
Campos MA, Wanner A, Zhang G, Sandhaus RA. Trends in the diagnosis of symptomatic patients with α1-antitrypsin deficiency between 1968 and 2003. CHEST. 2005;128(3):1179-1186.
American Thoracic Society/European Respiratory Society. American Thoracic Society/European Respiratory Society statement: standards for the diagnosis and management of individuals with

alpha-1

antitrypsin deficiency. Am J Respir Crit Care Med. 2003;168(7):818-900.
National Organization for Rare Disorders.

Alpha-1

antitrypsin deficiency. https://rarediseases.org/rare-diseases/alpha-1-antitrypsin-deficiency/. Accessed November 4, 2019.
Köhnlein T, Welte T.

Alpha-1

Antitrypsin Deficiency—Clinical Aspects and Management. Bremen, Germany: UNI-MED Verlag AG; 2007.
A1AT Genotyping Test Package Insert. Progenika Biopharma.
de Serres FJ, Blanco I, Fernández-Bustillo E. Genetic epidemiology of

alpha-1

antitrypsin deficiency in North America and Australia/New Zealand: Australia, Canada, New Zealand and the United States of America. Clin Genet. 2003;64(5):382-397.